Now we know where to find our crash save files. But chances are good that whatever caused that file to crash once, will make Maya crash again. What causes these problems, and how do we deal with them? Read on to learn how to fix Maya when it breaks.
Like all hugely complicated software programs, Maya has lots of problems! The first step in learning to fix Maya is to start understanding how Maya 'thinks'.
As I lay out each technique, I will explain the thinking behind it as well. When the next new problem pops up, you'll be better equipped to try to diagnose and fix it!
Fixing the magical disappearing object
When a magician makes something disappear, it's fun! When Maya makes something disappear, it's infuriating.
This technique will deal with any problem specific to an object – not just disappearances. If your object is behaving strangely, follow these steps!
Mesh Combine technique
1. We start with our object. This guy is angry at Maya.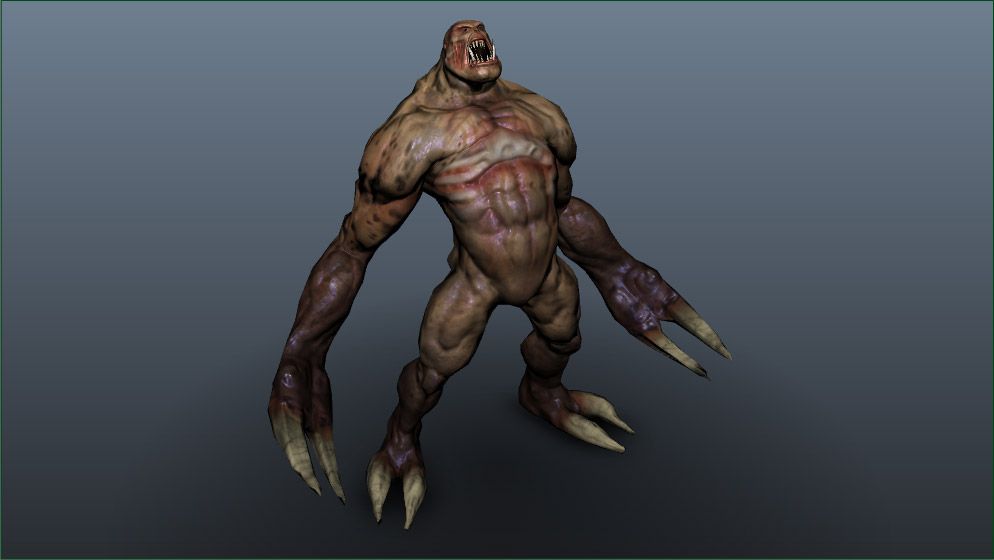 2. Create an ordinary polygonal cube (or any polygon object) and move it off to the side, somewhere that you can see it.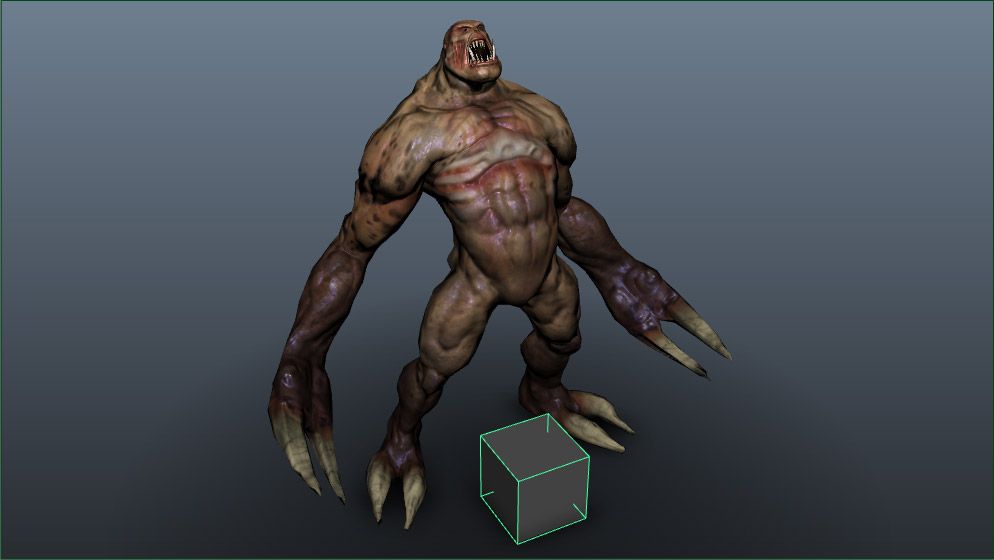 3. Select the cube first, then shift-click the broken model. The order you choose the models in is important! The cube must be selected first.
Both are now selected, so go to the Mesh menu and Combine them.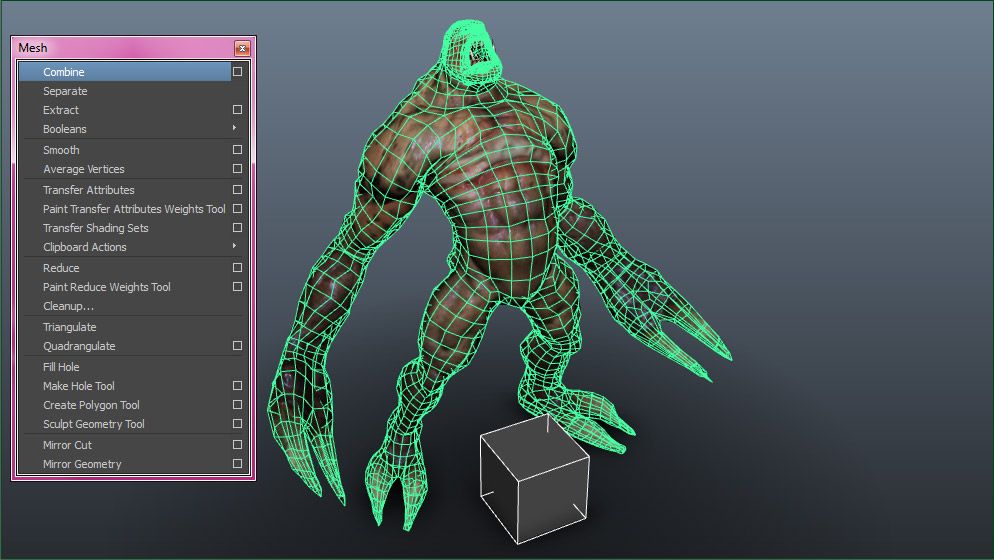 4. Now our two meshes are one, with a new name like PolySurface60.

5.Go to Face mode, and delete the faces of the cube!

6. Your original mesh is the only thing left standing.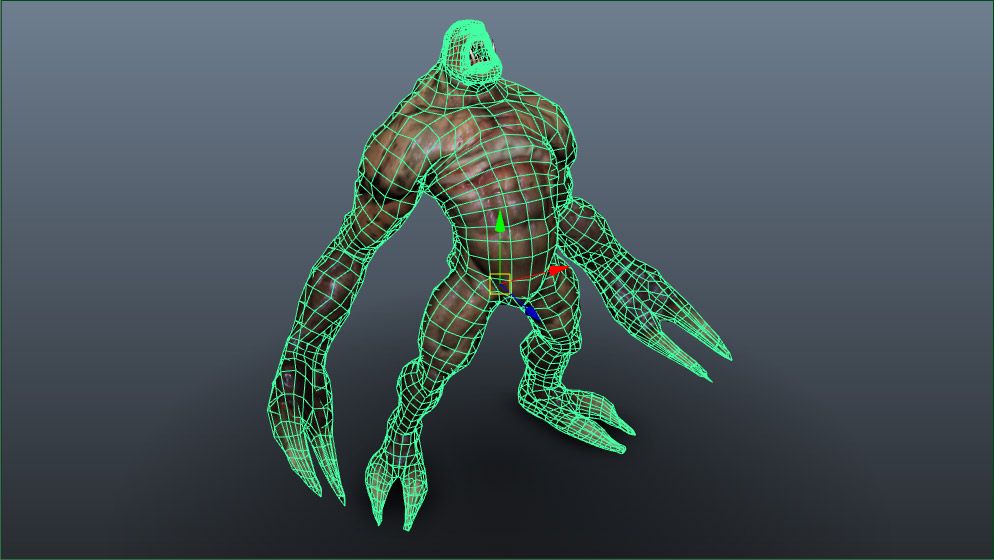 7. Last, do a Delete by Type > History.

How does it work?
What we've done here is tried to make Maya 'forget' whatever was causing the problem.
We create a brand new poly object, which we know works fine.
Then we combine the objects. We are trying to 'trick' Maya into forgetting whatever was causing the problem with our original object, and instead replace that with the 'good' history of the new polygon object.
Then we get rid of the poly faces and delete our history. Hopefully Maya has forgotten the issue!
If it didn't, then try the next step!
Exporting to FBX
The FBX file format is a pretty robust one. It is the shared file format that lets us move objects and scenes from one Autodesk package to another. Used to be, getting something from Maya to Max was near impossible!
1. Select the object in question and in the File menu, choose Export Selection.
2. This window will pop up. At the very bottom, switch the file format to FBX export. Then save it where ever.

3. Create a new file, and then do a File > Import. Our object should pop up, and hopefully our problems are fixed!
How does it work?
Again, we're trying to make Maya forget whatever issue it has with our object. The FBX format carries a lot of data, but hopefully whatever glitch is stopping Maya isn't transferred.
But what if that doesn't fix it? Time to go caveman.
Exporting to OBJ
We're going to try exporting again, but this time with a different file format – The old Wavefront OBJ format.
1. Same as before – File menu, choose Export Selection.
2. However, in this window, where we switched to FBX format, we'll see that there is no OBJ format. By default it isn't enabled!


3. We need to open the Window menu, then go to Settings/Preferences. Then, go to the very bottom of the Settings/Prefs menu and open the Plug-in Manager.
This window will pop up. Find objExport.mll and check the box next to Loaded. You can also check Auto load, if you want to load the OBJ plug-in every time Maya starts.
4. Repeat step 2, but this time choose OBJ and export.
5. Create a new Maya file, and import the OBJ file. Hopefully the problem is fixed!
How does it work?
Whereas FBX is a robust modern format, OBJ is an old format that doesn't support many features. That's why it's our last resort – OBJ will save our mesh and our UVs, and usually our materials, but that's it. Complex shaders or skin nodes will be left behind.
What if that doesn't do it? Time for the big guns.
Nuke the site from orbit: Reset Maya
We are going to reset Maya back to factory specs. It will be exactly like the first time we ever opened the package!
1. CLOSE MAYA! Maya must be shut down for this to work!
2.  YOU CLOSED MAYA, RIGHT? Are you sure? There should be no instances of Maya running. When Maya closes, it saves the pref files, so if you delete the prefs before closing Maya, you're wasting time.
3. Go to the Maya prefs folder.
For Windows, it's in \Documents\Maya\[version number, like 2013-x64]\prefs
For Mac, it's in /users/[username]/Library/Preferences/Autodesk/maya/en_US/[version number, like 2013-x64]/prefs
4. Select all the files in that folder – and delete them.
5. Restart Maya. If it worked, we'll see the welcome screen, the annoying movies pop-up, etc.
We will see that Maya is back to it's default user interface. Any custom menus, shelves, marking menus, or hotkeys are gone! If you want to keep those, copy the appropriate files from that prefs folder before you delete. You can reinstate them afterwards.
How does it work?
At this point, Maya has been reset to it's default state. And weird glitches it picked up should be gone. The thinking is that somewhere in one of our preference files, something was causing Maya to act flaky. By getting rid of those preferences outside of Maya, we remove the detrimental behavior.
BONUS: HELP why is my object green???
If your object turns this particular shade of green:
That means that the material that was assigned to that object has been deleted. Assign a new material to the object!
Like a soap opera
You may have picked up on the theme of making Maya 'forget' things. That's how I think about it. If there was a way to induce permanent amnesia in Maya I am convinced it would work better.
Working as an instructor, I've seen more than my fair share of Maya problems. If you run across any problems that you can't solve this way, just drop me a comment!